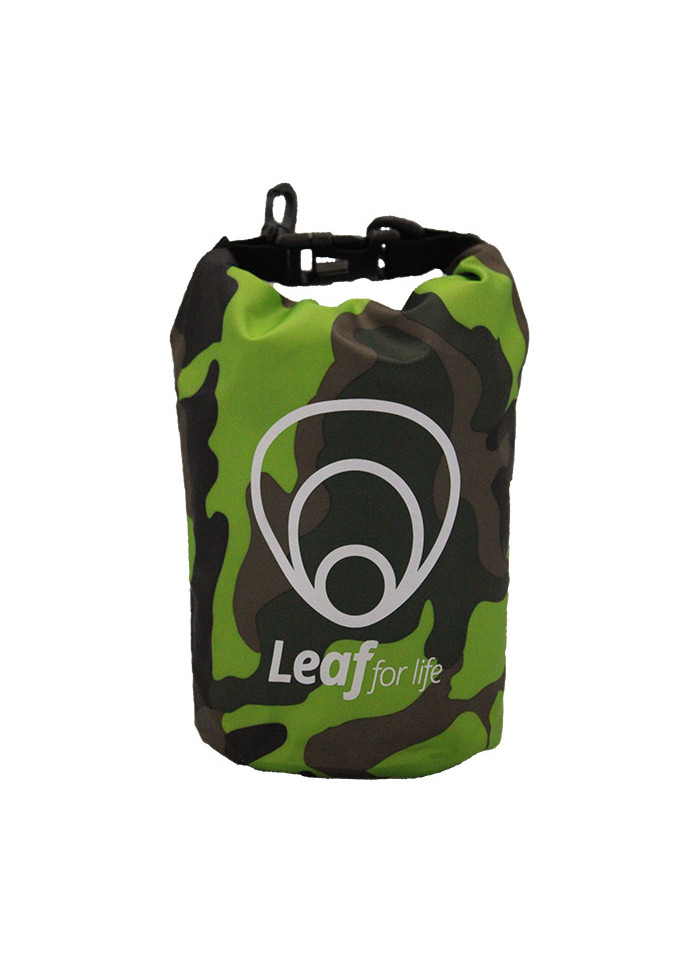 
Bag Etanche LEAF 2 Litres
leaf for lifeTM features its ultra-trendy and very original 2-litre waterproof bag, it's very practical for all outdoor activities. It will delight adults and children alike who can take it everywhere.
Ideal for the beach, the boat, the hike, it will allow you to keep your belongings dry at all times.
Black Leaf, Gold Medal International Spine Competition in Paris
A patented French innovation
Preparing and shipping your order within 24:00
Delivery by Colissimo for signature
1-year warranty
Parts and labour (sails and accessories)
LEAF SAC CONTENU
1 Waterproof bag with a capacity of 2 litres - 1 transport strap
The strengths of the waterproof bag 2
litersLeaf
closure
The closure of the waterproof bag leaf for lifeTM by winding 3 folds and clip ensures its waterproofing in the most intense uses. This closure system completely protects your belongings from all the dust and even powerful water jets. It also ensures buoyancy of the bag when used on water. Beware, the bag is not waterproof to prolonged total immersion.
robustness
The waterproof bag leaf for life TM was made from recycled UV-resistanttreated PVC. The welds of the bag are reinforced to ensure its shock resistance and high durability.
PRATICITE
1 fast fastens to the closing of the bag to easily attach it to the belt, to another bag like a key ring.
1 UV-resistant PVC ring are positioned at the closing strap to allow the transport strap to be attached (in shoulder mode).
Easy storage after use by simply rolling the waterproof bag on itself for minimal clutter (be careful, make sure the bag is dry before folding it over itself and storing it for an extended period of time).
For the beach, by boat, or hiking, this small waterproof and original bag is ideal for storing and protecting your mobile phone, your glasses, your car keys, some change...
The bottom of the bag is flat to allow great stability when placed.
EASY PACK'N GO
Thanks to its strap, the waterproof bag leaf for lifeTM can be worn over the shoulder or the way of a backpack! (ideal for children).
leaf for life also offers waterproof bags of 30 liters in 5 colors: perfect to protect your belongings from dust and water splashes.
Data sheet
material

Polyester fabric effect

capacity

Bag volume: 2 liters

duties

Keeps your personal belongings dry

height

18 cm closed

diameter

12 cm closed

weight

100 grams empty
Your Leaf can follow you everywhere. Your Leaf in his bag, you can pass airport security checks without any problems (including with your solar panel for the SUN model LEAF). Your Leaf can be loaded as carry-on baggage on all airlines (bag less than 55 cm in diameter) and will fit easily in the luggage compartment above your seat. You can also, if you wish, put your LEAF in your suitcase without any problems (your suitcase should be 50 cm or even a little less, your LEAF may be a little compressed in the shape of an ellipse during your trip). You are now ready to travel the world and go on a journey with your LEAF to the end of the world!

---

Your Leaf is delivered with an anchor foot suitable for use in sand. We have also developed two accessories that will allow you to also use your Leaf on multiple occasions.

The universal clamp allows you to have a support for your Leaf for a table, a lounge chair, a balcony or even the rail of a boat. Its machined aluminum jaw protected by a layer of rubber will allow you to catch any type of support. In no time at all, your Leaf can be implemented in your garden, near your swimming pool, on your terrace. Comfortably installed in your lounge chair, you can use your Leaf and benefit from a shade in every place.

The Leaf trident allows you to have an anchor when the sand is harder, on a beach of gravel or small pebbles, in the earth, or on your lawn. You will no longer need to carry a traditional and often very heavy parasol base to enjoy your Leaf. A very complementary accessory to the Leaf universal pliers.

---

You can use your Leaf even in strong windy weather. You will need to make sure to position the first disc of the frame of the sail well parallel to the wind so that the sail stretches and flattens in the direction of the wind. In this way, your sail, in constant wind, will not suffer the effects of the wind and will not fly away; it is one of its innovative features. We have done tests in high wind weather 50 km/h or more and our Leaf sail does not fly if these recommendations are followed correctly. In strong wind weather, we recommend that you do not deploy all the segments of the telescopic foot but only the first two segments to avoid damaging the last smaller diameter segment.

Be aware that you can also use your Leaf to protect yourself from the wind by positioning it as a screen with the 360-degree patella. You can lower the height of the sail (first and second segments deployed only) cause the end of the sail to fall to the ground and anchor your foot well in its anchor foot by giving it an inclination to compensate for the pressure of the wind on the sail and thus by impacting on the foot. Behind the sail, you will be completely sheltered.

---

The height of the telescopic pole is 1.59 m when unfolded in its entirety. In addition, the multi-directional patella allows the sail to be given a complementary tilt that allows you to stand completely under the sail without any problems. By using the CRAB clamp on a table, you can benefit from an even greater height since you will then add to the height of the umbrella the height of the table is about 80 cm more. Our Leaf nomadic shade sails are therefore perfectly suited for use on garden tables for family lunches.

---

The Leaf deployed has a large size: 1.53 meters in its longest length and 1.53 m in its widest width. This large size makes it possible to shade without problem for 2 people lying on a beach towel or 4 people at the table when the Leaf. Thanks to its 360-degree built-in kneecap, the Leaf allows you to have twice as much shade as a conventional parasol of equivalent size.

---

To clean your Leaf, you just have to pass a cloth soaked in fresh water on your veil. Don't forget to let it dry before putting it back in your carrier bag. Do not use detergents, aggressive chemicals of any kind. Detachants are not recommended and can damage your sail. Consult us so that we can recommend cleaning products that we have already tested.

---
3 other products in the same category:
LEAF SAC CONTENU1 Waterproof bag with a capacity of 2 litres - 1 transport strapThe strengths of the waterproof bag 2 litersLeafclosureThe closure of the waterproof bag leaf for lifeTM by winding 3...
LEAF SAC CONTENU1 Waterproof bag with a capacity of 30 litres - 2 carriage and stowage strapsThe strengths of the waterproof bag 30 litersLeafclosureThe closure of the waterproof bag leaf for...